Profile
After a lifetime of making & teaching ceramics I established a new studio at Creek Creative in Faversham in 2010.
My work is inspired by my love of nature and the flora & fauna of the North Kent marshes where I live. I like to use the structures & textures found in natural forms juxtaposed with textures from found objects to produce an unusual but affordable range of work which is both decorative & functional. I use fine porcelain clay which reflects the delicacy of the textures and soft underglaze colours to enhance the decoration.
This is a selection of my recent work, as all the pieces are individual please contact me for current availability and prices.
Recently I have added a range of Grey & Black Vases and a collection of Planters to my work, both handmade using a various stoneware and earthenware clays & glazes.
Buttons & Accessories
Buttons and brooches are made from porcelain and will withstand washing, I suggest turning the garment inside out before washing. They can be used on a variety of textile projects eg. clothing, cushions, wall hangings, felting, jewellery etc.
I will be extending the range of designs & colours throughout the year and can also make buttons to your own design. As each piece is hand made colours and sizes might vary slightly, on average buttons are 5mm thick.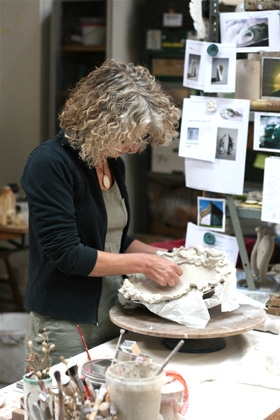 Rose Dickinson